THE
10 PRINCIPLES

OF DISABILITY RIGHTS

People with disabilities all over the world have endured unequal treatment and discrimination on the basis of having a disability. The UN Convention on the Rights of Persons with Disabilities has drawn international attention to how the situation can be acknowledged and redressed through a country's laws. These principles capture and illustrate common elements of effective disability rights laws around the world.
1 People with Disabilities are Experts

2 Full Participation

3 Cross-Disability Coalitions

4 Champions for your Cause

5 Defining Disability

6 Reasonable Accommodations

7 Checks and Balances

8 Specific Regulations

9 No Rights without Remedies

10 Common Cause Across Social Movments
People with Disabilities are Experts
People with disabilities themselves a play a critical role in making the laws widely known, implemented and enforced.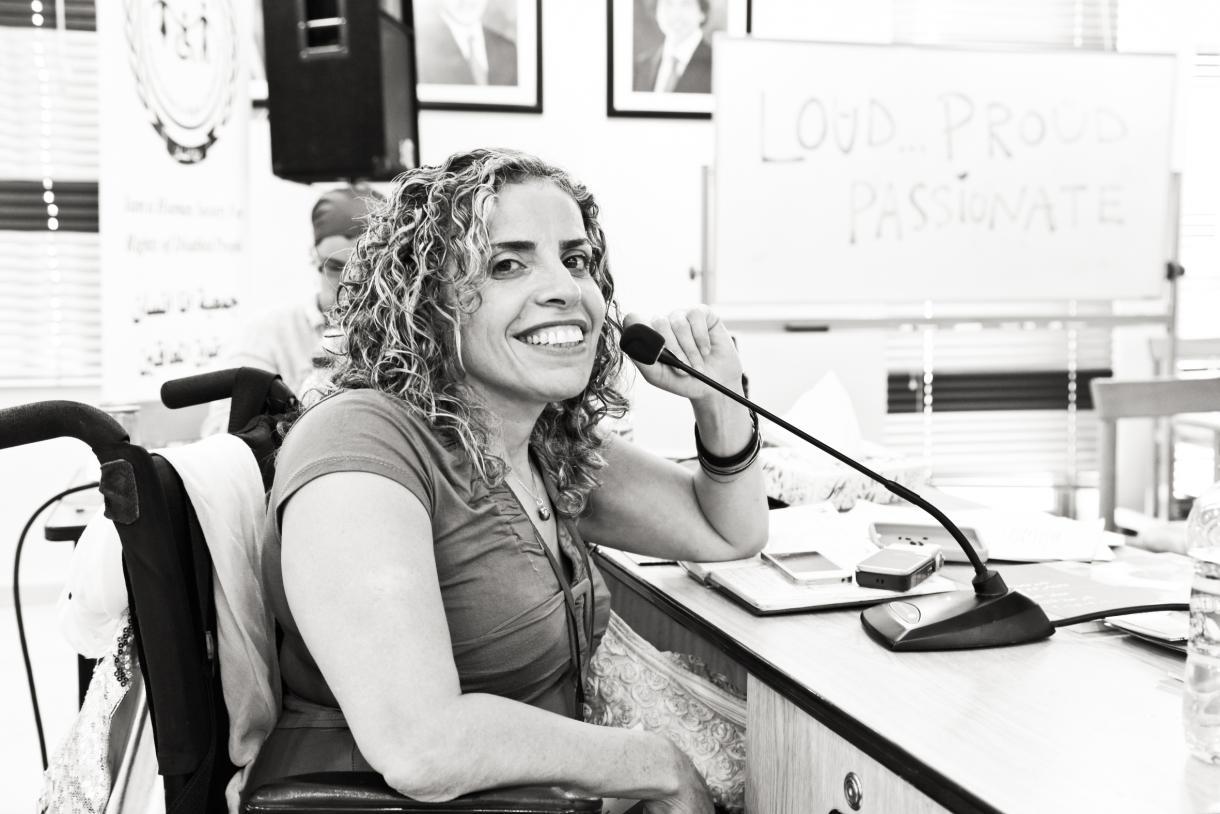 A disabled woman activist from Jordan
People with disabilities and their allies must be extremely knowledgeable about the law. A common problem in many countries is that people with disabilities themselves are not aware of the rights they have, and do not know how to file a complaint or to let the authorities know when their own laws are not being enforced.
When discrimination occurs, there is often no one else present except the person or entity that discriminates and the individual being discriminated against. Disability discrimination cannot be successfully exposed and rooted-out without the active knowledge and participation of people with disabilities.
A society must have large numbers of people with disabilities and their allies who understand and take responsibility for their own laws, and are ready to use whatever means they have to let authorities know when disability rights laws are not being implemented. The cross-disability community must continue acting until the laws are finally being enforced.
Some disability rights laws hold a hospital responsible for providing sign language interpreters to deaf patients. In order to ensure that the law is enforced, a person who is deaf and using hospital services (and their family) needs to know that the law exists, what the law says, and what are the options if the hospital fails to honor their rights. For example:
Can they safely report the hospital's failure through a letter or a call to an ombudsman, file a complaint with a designated enforcement agency, or find a rights attorney who will file a case on their behalf in the courts?
Are there any resources that will help them with the costs of taking these actions?
Are there disability advocates or organizations that will help them write letters or complaints?
What kind of information will they need to provide to help with an investigation of the complaint?
What consequences might they face if the complaint is unsuccessful?
Similarly, if a law allows some students with disabilities to have extra time for test-taking, a student with a learning disability must know about that law in order to access their right to reasonable accommodations. If a person with an intellectual disability is denied the right to vote despite her capacity to understand what voting means and make a personal choice, she needs to know that she has a right to vote under the law and how to do something about the denial of that right.